Spreading in the romantic valley of the Strela River, the former Plasy Cisterian Monastery (National Cultural Monument) - founded by the Czech Prince Valadislav II before 1146, underwent several redevelopments in the past. The moment consequential of them was the adaptation carried out in 1711-1740 according to the plants by J.B.Santini and K.I.Dienzenhofer, solving perfectly the problems of the foundation in marshy soil and mastering both substance and space.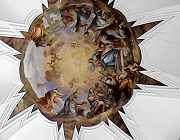 The valuable architecture is highlighted by frescoes created by F.A.Muller, J.A.Pink and J.Kramolin in the chapels and passages of the first storey. In addition to the convent, the site includes also several other structures: prelate's residence, Royal Chapel, cloister church and sepulchre of the Metternich noble family in the St.Wenceslas-Church. The convent houses the exhibition showing the history of pharmacy in Plasy and the gallery of the Stretti family (native of Plasy).

Text from 'West Bohemia Historic Sites', Regional Office for the Conservation of Historic Buildings and Monuments, Pilsen.
Photo by M.Shino

---